We are Chain Reaction Cycles
Chain Reaction Cycles is built upon a foundation of passion. We work hard to deliver the best service, range and value to the global cycling community. We go that extra mile, day in and day out, to offer quality products from a wide range of brands.
The Administrator
Gator Bikesure Ltd is the administrator of Chain Reaction Insurance and is responsible for, among others, issuing policy documents, administering the policy and assessing claims. Gator Bikesure is a cycle insurance business run by passionate cyclists and insurance experts. With over 20 years worth of insurance experience, Gator Bikesure fully understands the risks faced by cyclists and the growing need for insurance products to protect them.
For more information about Gator Bikesure Ltd visit
https://gatorbikesure.co.uk/
Gator Bikesure Ltd is registered under FCA number 710920. The company is registered in England and the registration number is 09492364. The company is an Appointed Representative of ETA Services Ltd. ETA Services Ltd is authorised to distribute insurance products by the Financial Conduct Authority number 313965.
The Underwriter
Red Sands Insurance Company (Europe) Ltd is the underwriter of Chain Reaction Insurance. Red Sands Insurance Group is an independent European insurance group operating across a number of market sectors offering a range of products and services.
Red Sands Insurance Company (Europe) Ltd;
Is a member of A.B.I. The Association of British Insurers
Is Protected by the F.S.C.S (Financial Services Compensation Scheme)
Is a member of The Financial Ombudsman Service
Has over 3 million policyholders
Hold more than 195% Solvency Requirement
Paid more than £100 Million in claims to clients in 2018
Since its founding, Red Sands is now authorised to operate in fifteen European countries, offering over fifteen classes of life and general insurance through ten carefully selected partners. With more than three million policyholders, and growing, Red Sands paid in excess of £100 million during the course of 2018 in claims. An important measure of financial strength and why your policy is safe. For further information about Red Sands please visit www.redsands.gi.
Our story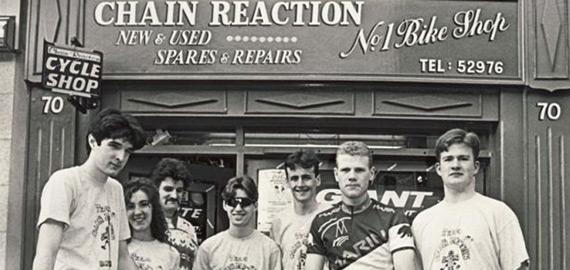 1984
Original bike shop, Ballynure Cycles, established
The CRC journey began as a small family business in Northern Ireland, serving and supporting local cyclists.
1998
Mail order focus begins
A move to a new warehouse enabled us to stock up and focus on the growing mail order industry.
2000
Chainreactioncycles.com goes live
No longer restricted by the number of products we could cram into the magazine adverts, CRC could now really show off our massive range of stock and great prices - the orders really started to roll in.
2017
Insurance launches
CRC Insurance launches in the USA and UK on a mission to provide the best insurance coverage worldwide.
Our riders
We support some great individuals competing in triathlon, road and MTB events. From UCI World Cup riders to National Champs and staff riders – we've got it covered.
Team Chain Reaction Mavic
Competing in the UCI World Cup Downhill Series and Enduro World Series, Team CRC are Sam Hill, Kelan Grant and Elliott Heap under the guidance of Team Manager Nigel Page.
The world's largest online bike store
We have customers in more than 130 countries and a range of cycling goods that rank as the best in the world. Our insurance is available in the USA and UK with more countries coming soon.